In this topic, you will learn about the reports included in the Summary tab for Beacon Engagement Insights.
Introduction
Engagement Insights is a stand-alone product focused on the frequency and intensity of viewer activity.
The Summary reports provide quick insights into the following:
Number of views and active viewers
A quick view of content perfomance
Which titles are driving traffic
Top series, top movies, top genres, and hours viewed by device
The content viewers watch when the first come to your site
If you are new to Beacon Engagement Insights, see the Overview: Engagement Insights for Beacon document.
Summary tab
The Summary tab provides an overview of reports you can deliver to your executive team. The report data displays weekly timeframes, where you select the week of interest. These summary reports save you time from building your own reports.
Login to Brightcove Audience Insights.

The Summary tab will be selected by default.

Summary
Time range
Use time range to filter the data displayed in the charts below.
Expand the Week dropdown menu. Leave the Last complete week selected, or choose a different week for your reporting data. The charts below trend over time, based on the time range.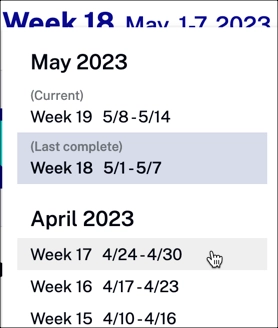 Engagement
The following quick-view graphs provide insights into customer value for the selected week. It shows the number of views, active viewers, and a quick view of content performance.

Data
Graph data:
Engagement - Timeframe for customer engagement data
Total views - Total customer views for all of your content
managed/unmanaged -Systems without user-specific data reporting (i.e. Amazon Channels) are unmanaged; data from these services are not presented in any charts
Active Viewers - Percentage of the total number of viewers who were active in the last 30 days
WAU/MAU Ratio - Weekly Active Users (WAU) as a percentage of Monthly Active Users (MAU); active users are defined as being signed in
Avg Hours Streamed - The average number of hours streamed for a user
Top Titles
This table shows which titles in your content library are driving the most traffic.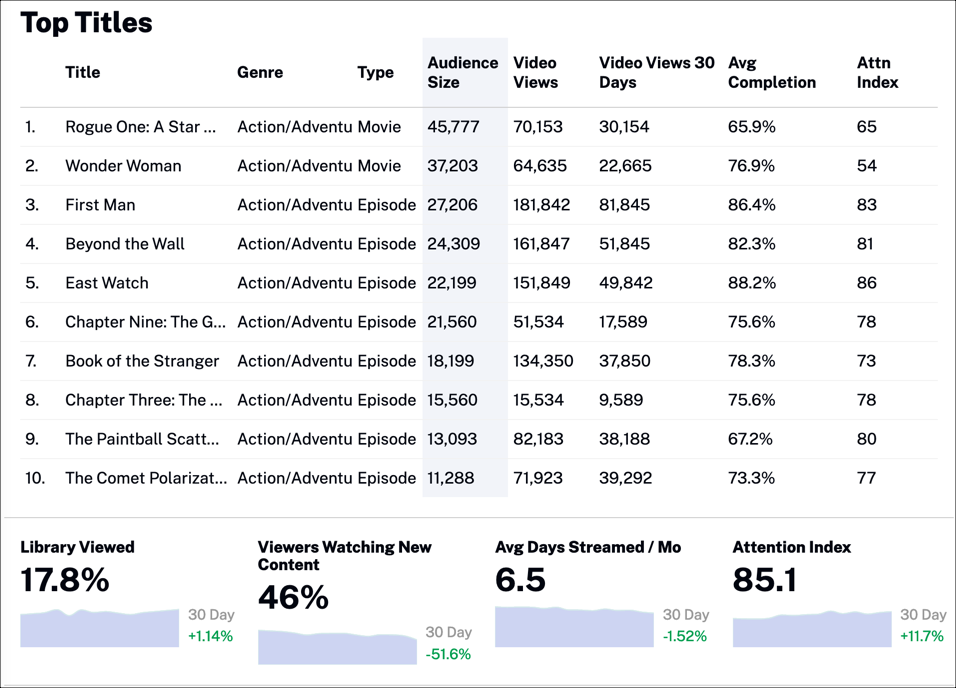 Data
Table data:
Title - Title of the content viewed
Genre - Stylistic or thematic category for grouping video content
Type - Type of video content or group of content; values are Series, Season, Episode, Movie
Audience Size - Number of unique viewers
Video Views - Number of times a video started playing, recorded when the stream is started (does not include rewind or replay); it is not a measure of individual viewers
Video Views 30 Days - Number of video views for the past 30 days
Avg Completion - Average percentage of the amount of video content viewed by each user
Attn Index -
Graph data:
Library Viewed - Percentage of your video library viewed by all customers
Viewers Watching New Content - Percentage of viewers watching new video content
Avg Days Streamed / Mo - Average number of days streamed per user for the past 30 days
Attention Index -
Top Series, Movies, Genres, Live channels
These tables show the top series, movies, genres, and live channels based on video views.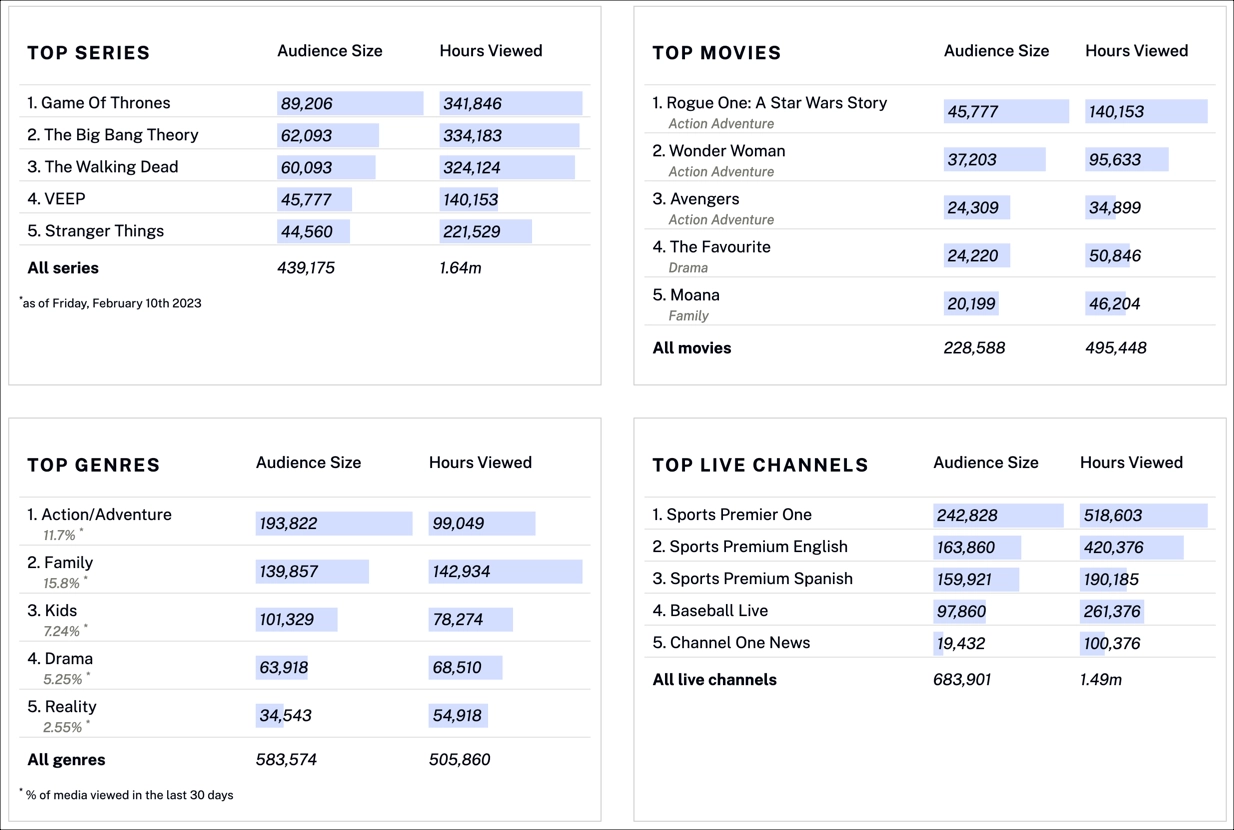 Data
Table data:
Audience Size - Total number of viewers
Hours Viewed - Total number of hours viewed by all viewers
Hours Viewed by Device
See which devices are most popular by your viewers.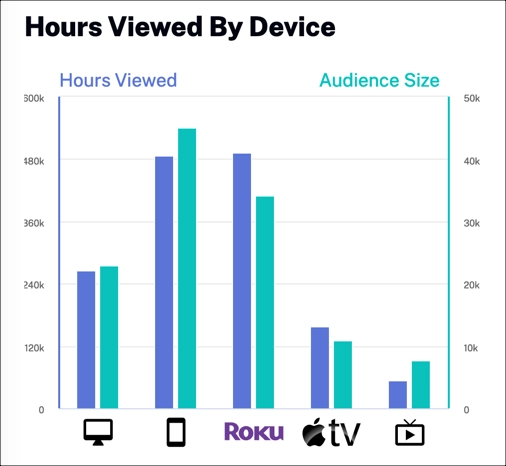 Data
Graph data:
Hours Viewed - Number of hours viewed by device
Audience Size - Number of viewers by device
Device - Device used by viewers to watch your content; includes desktop, phone, Roku, Apple TV, other TV
First Watched
See what content viewers watch when they first come to your site. This content gives you insight into what drove the viewer to your site.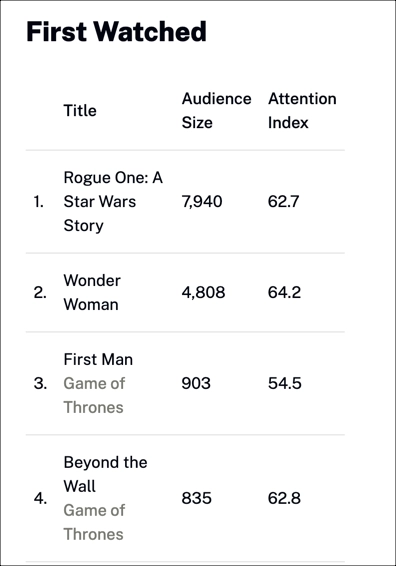 Data
Table data:
Title - Name of your video content
Audience Size - Total number of viewers
Attention Index -